In the early 1900's, the property that is now the William P. Ridley 4-H Center was originally the University of Tennessee farm. In addition to the land being used for agricultural practices, it was also the site of the first 4-H camp for the Boy's and Girl's Club Workers held in 1923 led by Mr. S.G. Abernathy. While at camp, children swam in a nearby swimming hole, enjoyed sports, helped prepare their meals and learned about the care of farm animals from those who worked on the farm. In 1924, the first girls from Marshall County attended camp. The 34 member group earned money to cover its own expenses for camp and did not accept money from parents. The girls from the Delina Club rode 21 miles in a two-horse wagon to meet the train in Lewisburg.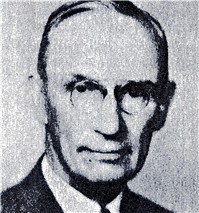 In the 1920's, the University of Tennessee farm relocated to Spring Hill, Tennessee and became known as the Middle Tennessee Experiment Station. A gentleman named William P. Ridley, a world famous farmer, an agricultural leader, and an encourager of 4-H and Extension did not want this land to be sold or used for other development. With his strong beliefs of educating young people about the land and the importance of agriculture in our society, he was instrumental in the efforts to retain 49 acres of land that was once part of the University of Tennessee farm as the home of the 4-H camp in Middle Tennessee.
William P. Ridley was a farmer in Maury County, Tennessee. He was the son of James W.S. Ridley and Anne Lewis Pillow Ridley. He was born in 1873 and later became the owner of the 2,000 acre homeplace located about five miles southwest of Columbia on the Mt. Pleasant Pike. Mr. Ridley was very active in the community. He was a charter member of the Maury County and Tennessee Farm Bureau, served as president of the Tennessee Livestock Producers Market and Burley Tobacco Growers Association, a member of the Federal Reserve Board, Director of Maury National Bank, Commerce Union Bank of Nashville, a member of the Board of Directors for the University of Tennessee, and was instrumental in dedicating the former University of Tennessee farm to 4-H camp and youth activities.
In dedication to the efforts made by W. P. Ridley, the 4-H center in Columbia, Tennessee was named the William P. Ridley 4-H Center.
*Sources
UT Agricultural Extension Service Camp Brochure 1985; Local newspaper article written by Gordon H. Turner possibly 1948 or 1949; interview with Campbell Ridley 2003. Photos: sources unknown.